Prolozone is an ozone, oxygen, vitamin, mineral and homeopathic medicine injection technique developed and pioneered by Dr. Frank Shallenberger. It is excellent for all forms of musculoskeletal and joint pain including chronic neck and back pain, rotator cuff injuries, degenerated discs, shoulder and elbow pain, but
especially degenerative and arthritic knees
. Prolozone seems to actually correct the pathology of the disorder, and according to Dr. Shallenberger there is a 75% chance for the chronic pain sufferer to becoming
permanently pain-free
.
Prolozone is derived from the Latin word "proli" which means to regenerate or rebuild, and the word ozone. Ozone is the most highly active form of oxygen that appears to powerfully promote the repair and regeneration of damaged tissues, joints, ligaments, and tendons. This usually initiates healing and a permanent end to pain. Prolozone can provide a curative result assuming that any other contributing factors such as infection, misaligned gait, movement deficits, nutrient deficiencies, etc. are successfully managed.
Dr. Yoshi Rahm explains Prolozone treatments.
How Does Prolozone Work and Why Does it Work so Fast and so Well?
The cause of pain and slow healing is a lack of circulation and inflammation. This, in turn, limits oxygen more, which further induces damage and limits the body's ability to repair itself. This decreased circulation and inflammation therefore creates a vicious self-perpetuating cycle of damage. For the body to heal and regenerate, blood must carry vitamins, minerals, and oxygen to the damaged area. Of these, by far the most important is oxygen because low levels of oxygen cause an accumulation of lactic acid, which increases pain. Prolozone works by first infusing anesthetic to the damaged area to reduce pain and swelling which increases circulation. Second, vitamins and minerals are infused that are critical to the healing process. Third, homeopathic medicine is infused into the area to decrease pain, swelling and stimulate the proper cytokines to aid in tissue regeneration and healing. Finally, an oxygen-ozone mixture is infused into the area. Instilling oxygen in the inflamed area provides instant energy production in the oxygen-starved damaged cells. Ozone stimulates powerful chemical mediators of repair, regeneration, and modulation of inflammation.
Common Conditions that can be Treated with Prolozone
Degenerative/arthritic knees – including severe osteoarthritis & rheumatoid arthritis as it may result in cartilage regeneration
Degenerative/arthritic hips
Knee injuries
Chronic back pain
Degenerated or herniated discs
Chronic neck pain
Whiplash
Rotator cuff injuries
Plantar fasciitis
Carpal tunnel syndrome
Torn tendons
TMJ
Sciatica
Heel spurs
Neuromas
Tennis elbow
Golf elbow
Post surgery
Bone fractures
Virtually any sports injury
Are There Any Side Effects?
No. There have been no major unwanted side effects reported from Prolozone therapy. Immediate effects may include a sense of 'fullness' in the joint and rarely can cause pain for the first 24 hours after the injection but if this happens, patients report the knee starts to feel much better than before the injection.
The first thing that most patients notice after a Prolozone treatment is an almost immediate 50-80% decrease in pain. The response to treatment varies from individual to individual, and depends upon one's healing ability and level of injury. Prolozone injections reportedly makes 75% of people completely and permanently pain-free and decreases pain in about 90% of people suffering from arthritis knee pain. This permanently pain-free number approaches nearly 100% when combined with our other lifestyle and supplement recommendations that we will make.
Most people may only need one or two treatments, while others may need a series of six and some enjoy the benefits that occasional repeat injections give them. The injection process includes a 10-20 minute appointment and is repeated once a week to once a month until maximum improvement is achieved.
Injections for Joint Pain – Comparison Chart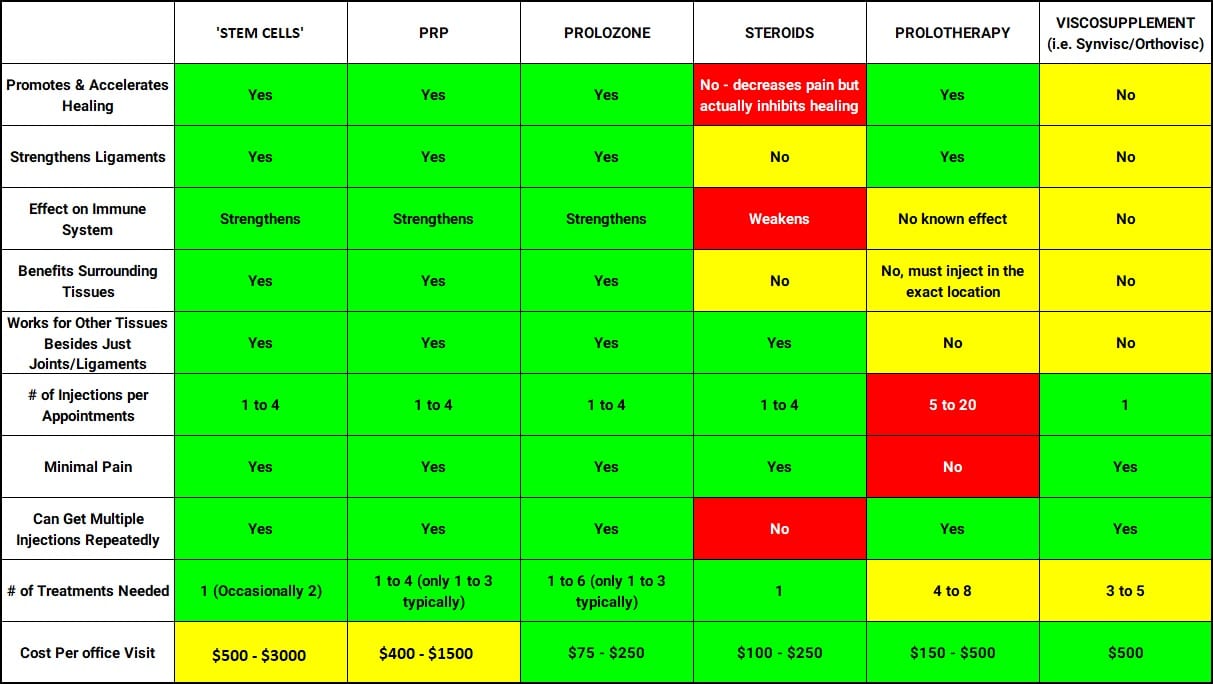 If you want to avoid potentially harmful drugs, steroids and surgery, and want relief from your arthritis knee pain immediately, then call 818-957-6909 to schedule an appointment so that we can help you can get rid of your pain right away and get you back to doing the activities that you love. You deserve to enjoy life again.